PS4 Battlefield 4 Squad about to start!
17.03.2015 um 14:05 Uhr -
sat-



Tanking,Helicoptering,Support-Droning and Mortaring our way back to the top. Venom-Project is back in the saddle baby with creating a brand new BF4 Squad. Only this time PS4 is the name of the game.
Maybe we can do a seperate Squad on PC....we are working on it.
Quakecon 2013 August 1-4, 2013
25.07.2013 um 19:28 Uhr -
b4mb4m


August 1-4, 2013 @ Hilton Anatole, Dallas, TX

Auch in diesem Jahr veranstaltet ID-Software wieder seine beliebte Hausmesse, die Quakecon.
Allerdings geht es dort nicht nur um Quake sondern ID nutzt die Quakecon um Neuheiten und neue Technologien aus der Entwicklung von ID vorzustellen.
Aber der für die Gaming Gemeinde wichtigste Teil ist das Quakelive Duel Turnier bei dem sich viele bekannte Größen aus der Quake Scene die Ehre geben.

Los geht es am 1 August mit der Begrüßungsrede von John Carmack, dem Mitgründer von ID-Software, im Hilton Anatole, Dallas, TX.

LIVESTREAM www.quakelive.com/#!stream
LIVESTREAM www.twitch.tv/quakecon



mehr...
www.quakecon.org/2013/08/
Registration+Tournament
Metro 2033: THQ verschenkt PC-Version
12.12.2012 um 22:09 Uhr -
b4mb4m

copy paste giga.de

Vorzeitiges Weihnachtsgeschenk von THQ: Der Publisher händigt derzeit Steam-Codes für die PC-Version von Metro 2033 aus.



Ihr wollt Metro 2033 kostenlos spielen? Dann schnell auf die Facebook-Seite des Spiels, "Gefällt mir" klicken und einen Code abkassieren.



Battlefielde 3 EA Origin - Der Teufel im Vertragsdetail
30.10.2011 um 22:50 Uhr -
b4mb4m

Analyse zur EULA von EA Origin von Gamestar.de
Der Teufel im Vertragsdetail

In den vergangenen Wochen hat Electronic Arts' Online-Plattform Origin die Spielergemüter erhitzt. Denn in der Endbenutzer-Lizenzvereinbarung (EULA) und in den Datenschutz-Richtlinien des Publishers verbergen sich diverse rechtliche Stolperfallen. Beispielsweise nimmt sich EA das Recht, auf den Computern der Nutzer umfassend Daten zu erfassen und auszuwerten. Bleibt die Frage: Ist das wirklich rechtens? Schließlich wird nach Battlefield 3 vermutlich jedes künftige EA-Spiel zwingend die Installation von Origin voraussetzen, also unter anderem auch Mass Effect 3 .



mehr

Gamestar.de
QuakeCon 2011: Heute fällt der Startschuss
04.08.2011 um 22:44 Uhr -
b4mb4m

Official Competitions

Each year, QuakeCon plays host for some of the most exciting electronic gaming competitions in the world. Players travel from around the globe for a chance at the prize money and bragging rights that come with a QuakeCon victory.

This year, QuakeCon 2011 features three official tournaments:

* Intel® QUAKE LIVE® Duel Invitational Masters
* Intel® QUAKE LIVE® Team Deathmatch Invitational Masters
* Brink® Open Championships

quakecon.org
QuakeCon2011 Live Stream



mehr...
ESL kommt zur Vernunft
03.04.2011 um 18:12 Uhr -
flp







Die ESL gab am 1. April folgende Regeländerungen bekannt:

- Buggalerie abgeschafft, weiterhin verboten bleiben aber grosse Bounces und Texturbugs.
- Anstelle eines PB-Screens reicht absofort auch ein GGC-Streamlink.
- Filmtweaks sind wieder komplett erlaubt, d.h. auch andere Werte als die Standardwerte
- Promod211 wird eingeführt

ESL News
"Venom - Tower" bei Caseking!
01.12.2010 um 16:57 Uhr -
meL!







BitFenix präsentiert heute offiziell vier weitere Modelle des Colossus Big-Towers: Colossus Venom, Colossus Venom Window, Colossus Black Window und Colossus White Window. Auf der gamescom 2010 konnten die Messebesucher bereits eine Sondervariante des Colossus Big-Towers begutachten, die mit ihrer grünen Beleuchtung auf sich aufmerksam machte. Auf Grund der zahlreichen Anfragen ist das Colossus unter dem Zusatz Venom ab sofort auch mit grüner Beleuchtung vorbestellbar.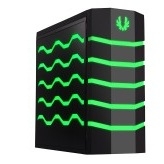 Inspiriert von einem der sieben Weltwunder bringt BitFenix mit dem Colossus das Design von PC-Gehäusen auf ein gänzlich neues Niveau. Egal, ob in Monolith Black oder Glacier White, das Colossus vereint einen aggressiven, futuristischen Look mit einer einfachen, schlichten, modernen Linienführung. Die Oberflächen des Deckels und der Front sind mit BitFenix SofTouch? beschichtet, was nicht nur gut aussieht, sondern gleichzeitig die Oberfläche schützt und sich besonders hochwertig anfühlt ? ähnlich der Haptik von High-end-Mäusen.